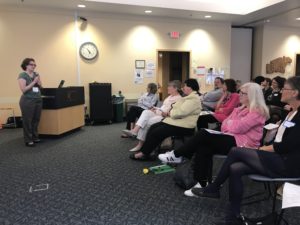 The City Federation of Women's Organizations hosted the community at its Annual Meeting on Monday, May 20, "Celebrating Six Years of Philanthropy in Tompkins County". The gathering in the Tompkins County Public Library BorgWarner Room included announcement of the Spring 2019 Innovation Grant, presentations by two recipients of Women Building Community Grants, and annual business agenda items of the CFWO.
CFWO President Liz Colucci announced that Habitat for Humanity of Tompkins and Cortland Counties has been awarded a $7500 Innovation Grant for its "Building Community" project. Habitat for Humanity seeks to expand its existing "Women Build" project to include more women and young adult women to learn construction trades and essential skills for their own empowered futures. Shannon MacCarrick accepted the grant for this innovative program educates women and young adult women in real-life home construction and employable skills, builds community and increases engagement.
WBC Innovation Grants provide up to $10,000 for "Big Idea" projects that will have a significant impact on women and girls in our community. Special consideration is given to new projects for which funding has previously not been available, and for existing projects for which additional funding will have a major impact.
Colucci expressed, "In our six years of philanthropy, we have distributed nearly $200,000 in 74 grants to 35 agencies who continue to advance the vision of the CFWO founders – supporting and improving the lives women and girls throughout Tompkins County. We are honored and proud to work with so many committed community members and agencies."
Two WBC Grant recipients presented at the Annual Meeting about what they have accomplished with funding from the CFWO. Sue Perlgut of ClosetoHome Productions and Cornell professor and poet Lyrae Van Clief-Stefanon showed an excerpt of their video "Other Powers: Trauma Survivors Reclaim Joy" that culminates workshops, poetry readings, and interviews with participants.
Bronwyn Losey of the Ithaca Welcomes Refugees' Global Roots Play School reported to the attendees about the two WBC Grants that support its nurturing, half-day nursery school program where refugee and immigrant women can send their young children while they attend their own English classes or tutoring sessions. Grants have helped expand community building by increasing individual meetings and community activities for mothers.
For the first time in its history, three WBC Unexpected Needs Grants up to $1000 were also awarded in response to requests from OAR (Opportunities, Alternatives and Resources), MRC (Multicultural Resource Center), and the Advocacy Center of Tompkins County. This rolling-application opportunity is offered to help not-for-profits fund unexpected needs or emergencies.
In addition, CFWO has been working with Tompkins Cortland Community College to establish a Legacy Endowed Scholarship for women students to use for tuition and fees and/or for childcare.